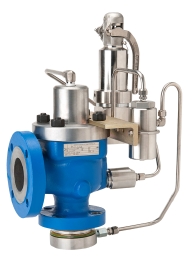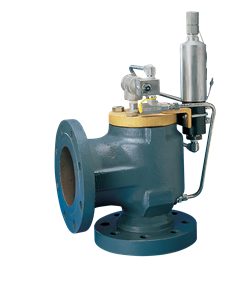 Pilot operated pressure relieve valves
Brand: Anderson Greenwood
Lugged style, uni-directional Knifegate valves.
• Balanced for back pressure without the use of bellows, which reduces the initial cost of the valve and the long-term
maintenance cost.
• External, independent blowdown adjustment provides easy, accurate and repeatable settings. Reduces costly removal of
valve or system downtime.
• ASME Section VIII Code Stamp. Certified National Board capacities for gas, liquid and steam service.
• Unique field test capability allows accurate set pressure verification with valve in service. No system isolation block valve
or rupture disc required.
• Full lift at set pressure allows D.O.T. installation to be set higher than Maximum Allowable Operating Pressure (MAOP), resulting
in increased system throughput.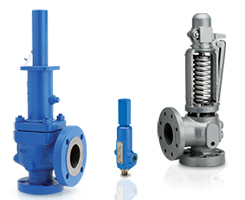 Direct spring operated
Brand: Anderson Greenwood
Model: Series 60 and 80
• Bubble-tight seating performance allows maximum system throughput and system optimization.
• Standard soft seated design is bubble-tight for repeated cycles, resulting in low long-term maintenance costs. Inexpensive O-rings are recommended spare parts.
Brand: Crosby
Model: JOS-E and JBS-E
• Universal disc holder allow for simple conversions from conventional to balanced bellows design.
• Full compliance with ASME Boiler and Pressure Vessel Code Section VIII.
Size range: 1" D 2" to 8" T2 10"
Pressure rating: Up to 6000 psig [414 barg]
Temperature rating: Up to 1000ฐF [538ฐC]
Inlet ratings: ASME Classes 150, 300, 600, 900, 1500, 2500
Safety valve/direct spring operated
Brand: Crosby
Model: Style HE ISOFLEX®

Features: High capacity safety valve for drum service, saturated steam
applications. Two ring control and back pressure-assist close
design are standard. ISOFLEXฎ seat design provides seat
tightness up to 95 percent of set pressure.
Sizes: 21/2" x 6" to 4" x 8" [Dn 65 x 150 x 100 x 200]
Orifices: 1.840 to 7.070 in2 [11.87 to 45.61 cm2]
Connections: ANSI Flanged or Butt Weld Inlet and ANSI Flanged Outlet
Max. temperature: Saturated steam
Max. set pressure: 3000 psig [207 barg]
Code: ASME I