Gate, Globe, Check Valves (INDUSTRIAL VALVES)
Pentair provides forged and cast gate, globe and check valve solutions to the DIN and ASME power, petrochemical, oil and gas and water industries. Our application specialists focus on the isolation and non-return applications requiring solutions for high pressures, high temperatures, large sizes or specialty alloys to help protect our customers' systems and keep their plants running.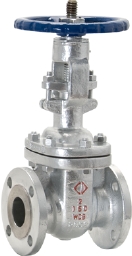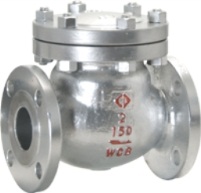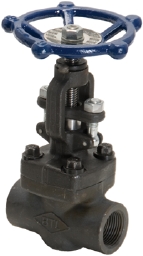 A range of ASME Class 150, 300 and 600 bolted bonnet cast steel valves, with metal-to-metal seating in flanged or butt weld ends
General application
The range of quality Hancock gate, globe and check valves are installed in a wide range of applications in the oil and gas, chemical and petrochemical, onshore and offshore drilling/refining, and the power industries.
Features & Benefits:
A rugged body and bonnet design in accordance with API 600, ASME B16.34 and BS 1414. Tight shutoff performance is always guaranteed by API 598 testing.

High Cv values, minimum turbulence and resistance to flow.

Valve bodies are produced in various materials and suit NACE requirements.

Flexible wedges as standard.

Seat rings are standard available as threaded or welded-in type. Above 24" seats are seal welded as standard.

Body bonnet gaskets are available as flat, spiral wound and ring joint types, in relation to pressure class.

Flanged, buttweld or special connections can be manufactured
Technical data
Pressure ratings: ASME Class 800 and 1500
Body materials: Carbon steel and stainless steel
Sizes: DN 15 - 50 (NPS ½ – 2)
Connection
standards: Screwed (NPT) to ASME B1.20.1
Socket weld to ASME B16.11
Flanged to ASME B16.5 classes 150, 300, 600, 1500
Butt-welded ASME B16.25; JB/T12224
Tested to: API 598
Gate, Globe, Check Valves (SEAM & POWER PRODUCT)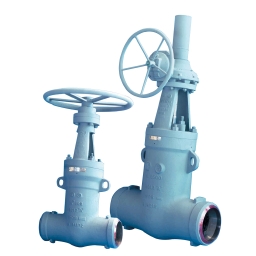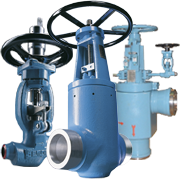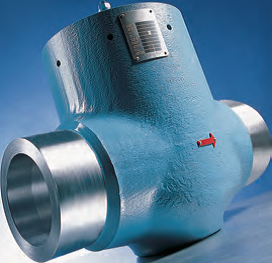 Wedge Gate Valve, Cast High Pressure Style B
General application
The pressure seal valves are an excellent choice to ensure flow efficiency and a long service life in high pressure, high temperature applications. The valves are installed in a wide variety of applications: oil and gas refining/processing, chemical and petrochemical industries, power plants (thermal and geothermal) and gas storage and transportation.
Features & Benefits:
• Robust body and bonnet construction ensures perfect sealing and provides maximum safety
• Easily accessible for maintenance operations
• Excellent sealing of the bonnet/body gasket by bolting pre-load and line pressure
• Valves designed according to ASME B16.34 and wall thickness in acc. to API 600
• Fully guided flexible wedges as standard
• Valve bodies are offered in a variety of steel and alloys, including the suitability for NACE requirements
• Seat rings are available as welded-in types
• Easily removable yoke sleeves in materials suitable for use in harsh applications
• Connections are offered as buttweld, flanged or special ones to meet any customers' request
• All valves are tested according API 598
Technical data
Pressure ratings: from ASME# 600 to 2500
Body materials: carbon, alloy and stainless steels, duplex steels, special alloys
Temperature (°C): -46 to + 650
Sizes (mm): 50 to 600 and larger
Connection standards
Flanges: ASME B16.5
Buttweld: ASME B16.25.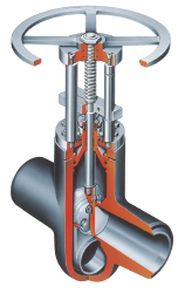 PARALLEL SLIDE Gate Valve, Cast High Pressure
Features & Benefits:
Excellent Reliability
Eyelet Follower providing a smooth flow path & maximum performance Self cleaning action between disk & seat

Welded-in seats hard-faced with Stellite® or Equivalent

Seat surface protection provides extended life

Low Cost Maintenance

Expanded graphite pressure seal & gland packing

Lower operating forces than wedge gate design

Interchangeability of parts

Simplified seat refurbishment (only requires flat lapping, no critical angles to be matched to ensure sealing capability)
Longer seat life with eyelet follower, due to reduced erosion

Improved Performance
• Lower pressure drop characteristic than wedge gate valve
• Minimized flow turbulence
• Reduced actuator size/cost by 30% when compared to wedge gate
• Higher allowable seat velocity
• Improved sealing assisted by line pressure
• Low operating torque, seals on position not torque
Typical Applications
• Main Steam Isolation
• Boiler Feed Pump Isolation
• H.P. Feed Heater Isolation & By-Pass
• Blow Down Service
• Blow Off Service
• Gland Steam System Drains
• Steam Turbine Inlet Isolation
• Economizer Recirculation
• Spray Water
Technical data
Sizes: 5" – 24"
ASME: B16.34 – 1996
Valve overall lengths to: ASME B16.10 – 1992
Pressure Class: 1000, 1690, 1715, 2260, 2500, 2850