PRODUCTS
Actuators & Controls
Pentair offers one of the largest portfolios of actuation and controls products available in the market today. Global manufacturing facilities produce electric, pneumatic, hydraulic, gas-hydraulic and subsea actuators along with rotary and linear valve position and control monitors. Servicing a wide range of industries including oil and gas (onshore and offshore), petrochemical, chemical and power generation, Pentair has the applications experience and customization capabilities to find the optimum solution for your valve automation needs. Whether it's providing a bare actuator, helping to size an actuator or designing a customized automation solution, Pentair actuation and controls can help.
Electric Actuators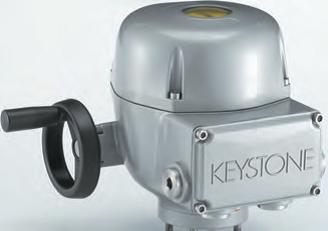 Brand: Keystone
Model: EPI2
The Keystone EPI2 series is the most innovative all-in-one actuator solution for the automation of quarter-turn valves and dampers. With a huge number of standard features included in a small, compact design, this new series of electric actuators greatly simplifies valve, actuator and control system integration. Available with both weatherproof and explosion proof environmental ratings allows for a wide range of applications in most plant environments. The unique epicyclical gear train eliminates the need for mechanical/electrical brakes and handwheel clutch mechanisms. The EPI2 direct mounts to most Pentair manufactured valves eliminating the need for expensive mounting brackets. The EPI2 can be tailored to fit customer requirements with the addition of options such as servo controls, feedback modules, network cards and local pushbutton station. This flexibility gives customers the ability to meet many of their quarter-turn electric actuator needs with a single actuator line.
Torque range: 600 to 17,700 lb.in. [68 to 2000 Nm]
Universal voltage supply: 100 to 240 Volt, AC or DC
Environmental rating: Standard Weatherproof: NEMA 4/4X/6 (IP66/68) + CSA 139 (CUS) Optional – UL 873
Hazardous Environments: FM/CSA Approved for NEC 500 (Class I, Div. 2) and NEC 505 (Class I, Zone 1 and 2) + NEMA 4/4X/6 (IP66/68)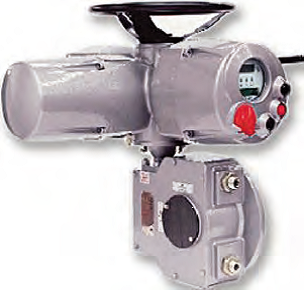 Brand: Biffi
ICON multi-turn electric actuator offers non-intrusive calibration via the local pushbuttons, a digital bus system or a hand held device.

Standard local controls with three-position selector switch, open-stop-close pushbuttons and three LED indicator lamps.

Two back-lit LED displays, one for position indication and one for the text messages

Self-diagnostics via an array of sensors. Simplifies field troubleshooting.• Other standard features include a cycle timer, monitor relay, phase protection/correction, data logger, and ESD relay.

40 digital I/O (inputs/outputs) for control, diagnostics, and status.
Output torque: Top mount, multi-turn applications – Up to 1,062 lb.ft. [1,440 Nm]
Side mount, multi-turn applications with auxiliary gear – Up to 42,000 lb.ft. [56,944 Nm]
Quarter-turn, side mount – 10,000 Up to 4.4 million lb.in. [497,133 Nm]
Pneumatic Actuators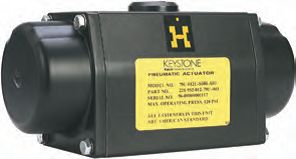 Brand: Keystone
Model: Series 79U
• Compact rack and pinion design delivers maximum output torques in a small, compact package.
• Full bearing support on every moving part for long life.
• Encapsulated springs simplify assembly and ensure safety and reliability.
• Hard anodized epoxy-coated body for higher level of corrosion resistance.
• Direct mounting to Keystone butterfly valves.
Supply pressure: 40 to 120 psig [2.8 to 8.3 barg]
Output torques: Double acting – up to 27,624 lb.in. [3121 Nm]
Spring return – up to 10,155 lb.in. [1147 Nm]



Brand: Morin
The Morin actuators are constructed of ductile iron housing and end caps, 17-4 stainless steel yoke, with either 316 stainless steel barrels for the Series B or steel barrels with Xylan coating for the Series C. The Morin Series S actuators are constructed of stainless steel, offering high levels of corrosion protection. Morin offers both symmetrical and canted yoke designs to allow suiting the output torque profile to the valve for more efficient and economic operation.
• Scotch yoke design using precision bearings eliminates dead band in the yoke mechanism, providing the greatest torque output at the beginning and end of stroke.
• Teflon piston bearings, bronze piston rod bushings and output shaft bushings of either bronze or Teflonฎ provide longer life, help reduce maintenance and require no lubrication.
• Choice of canted or symmetrical yoke design puts the torque where it's most needed.
• Bi-directional travel stops provide accurate valve rotation adjustment.
Model: Series B and C
Supply pressure: 40 to 160 psig [2.8 to 11 barg]
Output torques: Double acting: up to 1,374,700 lb.in. [155,320 Nm]
Spring return: Up to 583,288 lb.in. [11,765 Nm]
Model: Series S
Supply pressure: 40 to 160 psig [2.8 to 11 barg]
Output torques: Double acting – to 240,000 lb.in. [27,116 Nm]
Spring return – to 104,125 lb.in. [11,765 Nm]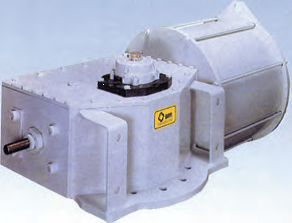 Brand: Biffi
The Biffi pneumatic actuator uses a scotch yoke design that generates high break torque needed for the actuation of many quarter-turn valves. The Biffi actuator can be provided with a symmetric yoke or canted yoke design. The product line has low hysteresis and high response for enhanced modulating services.
• Six bearings provide reliability, smooth operation and extended service life.
• Guide bar supports the transverse forces and ensures proper support of the piston rod. Hard chrome plating on guide bar provides corrosion resistance and minimal friction loads.
• Electroless nickel-plated cylinder bore provides maximum corrosion resistance and reliability.
Supply pressure: Up to 150 psig [10 barg]
Output torques: Up to 2,655,300 lb.in. [300,008 Nm] (higher values with special versions)
Control Accessories
Tyco Flow Control has a complete range of control accessories for integration with the
Tyco actuators to achieve complete process control.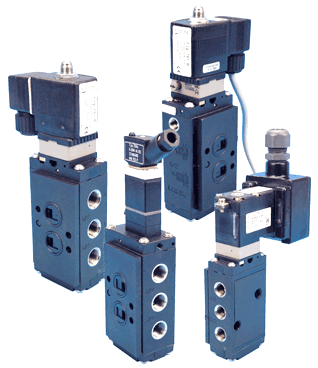 Solenoid Valves
A comprehensive range of solenoid valves is available for controlling the pneumatic supply to the actuator by means of an electrical signal. Alternative specifications of solenoid valves include:

• Weatherproof to NEMA 4, 4X
• Explosion proof to NEMA 4, 7, 9
• Intrinsically safe to Class I A, B, C, D, Class II E, F G, Div. 1 and 2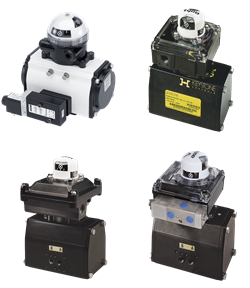 Position Monitors
The AVID range of Position Monitoring equipment offers models for all service classifications, each one incorporating numerous user-friendly features, including HiVue® Local Visual Display, EasiFix® Switch Adjustment and ModMount® Assembly facilities.
- ZR and ZR PLUS Position Monitors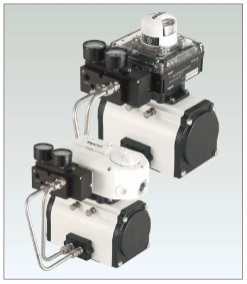 Analog Positioners
The AVID range of Control Positioners offers a variety of solutions for the precise positioning of rotary and linear pneumatic actuators. These positioners are suitable for use with either double acting and spring return actuators. They are mounted to the actuator housing either directly with ModMount or NAMUR (VDI/VDE 3845) standards. These units also provide the simplest form of installation and calibration as standard, without the requirement for additional equipment.
- EaziCal IR Analog Positioner
- SmartCal Analog and Digital Positioner